Clone suédois du Korg Ms 20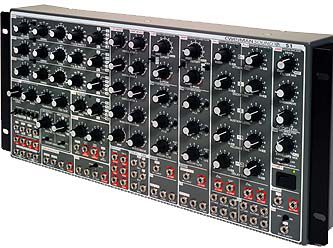 On le sait depuis longtemps , les suédois ne sont pas les plus mauvais lorsqu'il s'agit de reproduire le son analogique de nos vieux synthés. En voici un qui clone un des plus fameux le Korg MS-20 : Cwejman S1 MK2

THE CWEJMAN S1

The Cwejman S1 - An analogue synthesizer whose high performance and flexibility give musicians unlimited opportunities to create everything from classic "vintage sounds" to sounds so unique you've never heard them before.
The Cwejman S1 is an instrument for the true musician that gives you complete freedom to shape the sound you want. The Cwejman S1 is patchable for tremendous flexibility. It has an open interface, so everything is immediately accessible - not hidden in
submenus. We deliver it configured and ready to use, but you are completely free to patch and change the configuration until it sounds just the way you want.
The Cwejman S-1 is a semi-modular synthesizer featuring a unique sound circuit solution. In other words, this is no mere copy from the synthesizers of the 60s or 70s.
Semi-modular synthesizers

Semi-modular means that all functions and modules (oscillators, generators, filters, etc.) are linked. The synthesizer is preconfigured, but the configuration can be changed at will. All signals can be used as sounds or modulation sources and all parameters: pitch, pulse width, volume, and resonance, etc., can be modulated from any source. You can imagine the creative opportunities waiting for you inside this instrument!
Warm and powerful sound

The most unique feature of the product is the sound processing circuits that produce the unmistakable Cwejman Sound: a warm, fat, and genuine analogue sound.
Sound quality is consistent and powerful, especially in the bass register. The Cwejman S1 has a distinct sound and packs enormous possibility in a compact package.
Our sound circuits are uniquely designed using our proprietary solution. They are characterized by the same punch, bottom and consistent sound found in the vintage treasures - but they can also sound completely different.
.
If you have a sampler, you can order our CD in Akai S-1000 format containing a large number of basic sounds taken from the Cwejman S1. This way, you don't have to wait to start taking advantage of what the Cwejman S1 has to offer.
Le site :