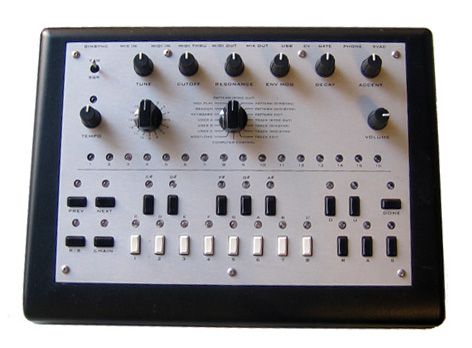 Ce n'est pas le premier clone de la TB-303 et ce n'est sûrement pas le dernier non plus. Néanmoins cette petite boîte a attiré mon attention car elle est conçue autour des transistors originaux.

It took us 6 months, but we tracked down the original transistors: 2SK30A JFET, 2SC536F NPN, 2SA733P PNP, 2SC2291 & 2SC1583 matched pairs, LA4140 (the original headphone amp), BA6110 (equivalent to BA662) OTA, AN6562 (original op-amp)

Écoutez quelques samples ici.

Si vous décidez de craquer pour cette bassStation, sachez qu'il faudra vous inscrire sur une liste d'attente :(
The x0xb0x is not just another MIDI-controlled TB-303 clone. x0xb0x is a full reproduction of the original Roland synthesizer, with fully functional sequencer. The sequencer can be programmed just like the original 303 (ok its actually a little easier, we think) and can be used to control other synthesizers via any of its various output formats. 128 banks of track memory and 64 banks of pattern memory are stored in onboard EEPROM, no battery-backup is needed!
Le site :