Construire sa batterie électronique pour une poignée d'Euros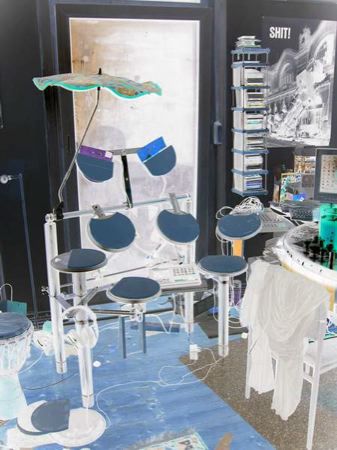 Le titre du forum donne le ton : Edrum For Free. Ajoutez le slogan : "Don't pay, just play" et vous aurez tout compris. Comment construire sa batterie électronique pour 3 ou 4 €. J'ai sélectionné celle d'un certain VanHouten.
The rack
Consists of an old working desk system which i modified slightly to fit my needs. the cross-bar is of course a tube from a wrecked vacuum cleaner. One could make a whole rack-system just out of these tubes, they are perfectly shaped and they all have the same diameter, no matter which brand. All the stuff one needs for this should be available at a scrap-dealer of your choice. The clamps for toms etc came from a sanitary pipe system. To strengthen the toms from underneath i took a scrap roof-rack.

The pads

1. shoe-sole-material (the specific name is LunaSoft SLW) : just perfect! (this is neopren-like stuff from www.nora.de)
2. some shitty vinyl-album from second hand market works fine here. Vinyl is strong and flexible enough and in my opinion works better than metal plates. It is also easier to cut. Just try it!
3. piezo trigger (the standard thing) with a tiny rubber cushion underneath.
4. floor covering plates (i spared some from the kitchen floor).
5. old turntable chassis from scrap-dealer.

Fake cymbals

I sawed off the tails of previously broken skateboard decks. The cables come from old vacuum-cleaners at, guess who, my favourite scrap dealer, of course. this guy shurely deserves a medal of honor! He also gave me the umbrella : "if you make a drumkit out of scrap, at least it should look cool! thanks for this one!"

Costs

- about 5 euro to the scrap-dealer
- 10 for screws, clamps etc.
- 10 for cable-connectors, sockets and piezo's
- 25 for the LunaSoft 100x60cm (enough material for two whole drumkits)
So most of the money went into the top layer of the pads, but i think it is worth that because this stuff is extremely durable. i can only recommend it!
Je suis d'accord avec vous, elle est moche comme un poux sa batterie, mais je suis sur que certain d'entre-vous auront à coeur de nous réaliser quelque chose de mieux. Bon courage.
Voici un lien en français d'un type qui a construit son E-drum. Merci à Cox d'audiofanzine pour l'info. Le lien.