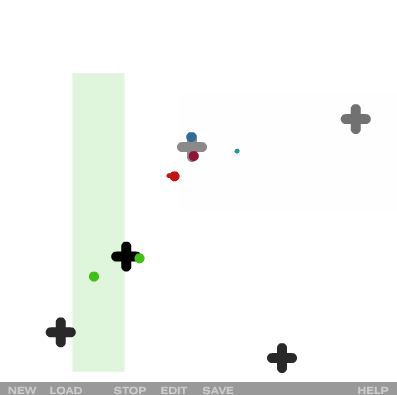 Étrange Interface en Flash au design naïf. Elle produit des sons et des compositions très Chill Out. Vous pouvez soit loader des compositions déjà existantes , soit créer les vôtres et les sauvegarder (ça je n'ai pas testé). Cliquez sur Help si nécessaire.
PET_00 is the result of a collaboration between software artist Simon Yuill and composer Laura Baxter.
At the Paragon's invitation, Laura created 8 short and punchy electroacoustic works using a variety of starting materials, some supplied by us and some sourced by her. Simon subsequently created an innovative software interface that allows the user to re-form and re-create their own works from Laura's originals.
The original CD quality of the pieces has been lost due to the heavy compression necessary to enable quick loading on a 56k modem. However, much of the success of this project is due to the fact that Laura has ingeniously created 8 short works that can stand up to this kind of rough treatment.
The whole emphasis of PET Projects is on accessibility, enabling users - who may not have had that much of a chance or much encouragement to explore their own musical creativity - to start their explorations in sound from the same point as every other user.
Hint: Before embarking on creating your own new work from Laura's music, why not ask the interface to create a 'random' score for you, as a starting point. Alternatively, feel free to download a score saved by another user (both facilities are available within the interface). Then, armed with an idea of what has been achieved already, create your own! .
For a full description of how to use the interface, please visit the Help text once loading is complete.
Enjoy creating!