Pepe Tozzo * Retro-électro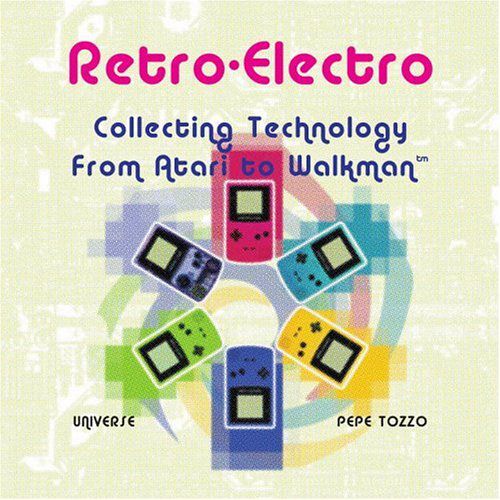 Procurez vous le dernier livre de Pepe Tozzo si vous êtes fan de rétro-électro. Je ne suis pas certain qu'il soit disponible en France (je regarde à la Fnac) mais vous pouvez le commander sur Amazon pour 19$ + les frais de port évidemment. Une collection qui va de l'Atari au walkmen. Pepe Tozzo - un anglais qui vit dans l'Hampshire - a commencé à collectionner toutes sortes d'appareils électroniques il y a 10 ans (1995) en découvrant la vieille calculette de son père. Résultat : une grosse collection réunie dans un bouquin de 160 pages.
Editorial Reviews

From the Inside Flap

The latest trend on E-Bay and at flea markets is the buying and selling of old technology?transistor radios, video games, the Betamax video recording system. While made of plastic, wires, and metal that earlier seemed to have little of the romance of the "antique," this trend proves that these objects from the sixties, seventies, and eighties have acquired status as collectibles.
Addictively browsable, this is the essential guide to what technology from the last half of the 20th century is collectible. This is the only book to survey the trend, catalogue and depict the full range of objects, and gauge the correct price levels.
Even those who have not built a collection will be fascinated by the spirited product histories of the original Atari console, the Walkman, and the Betamax (which proves that every age has its Edsel?the product technically superior but destined to fail in the marketplace). Collectible Technology mourns all the gadgets from adolescence ever thrown away. It will start you wondering how much the brand new Ipod will be worth in a few decades…
The book includes an impressive guide to where to buy these collectibles and which websites to use.

About the Author

Pepe Tozzo lives in Hampshire, England. He began collecting electronic technology in 1995 after discovering his old school calculator in his father's attic. His old calculator collection expanded rapidly before he diversified by collecting other retro-electronic items.