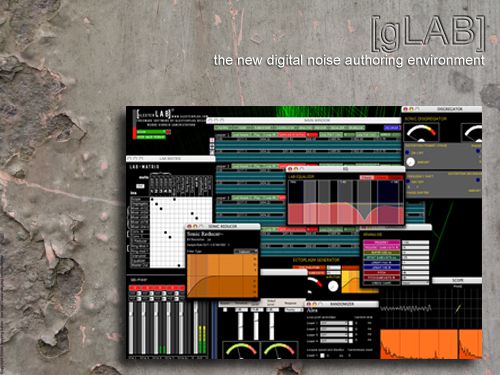 Software gratuit de création de sons. [GleetchLAB] est disponible pour Mac OSX, la version pour Windows est prévue pour bientôt. Attention à vos HP!
[GleetchLAB] software is a complete freeware suite for sound designers and open minded musicians. Designed to create and manipulate drones, glitches and amazing digital noises with few mouse clicks. [GleetchLAB] software is a peculiar collection of instruments that you can patch togheter with a modular matrix. The suite features four stereo loopable wave readers/writers with different random loop point algorithms, one wavetable oscillator, ectoplasm generator, a sonic reducer, 3/4/5 bands parametric EQ, an amazing sonic disgregator, a granular re-synthesis engine, a 512 points convolver, a ring modulator, a 5 stereo tracks mixer with opto compressor/limiter, VST plugins implementation and a friendly spectrogram/sonogram/oscilloscope/ phase-scope analizer, as well as 2 stereo audio inputs to process several exernal sources. With [GleetchLAB] software you can create complex digital drones, design glitches and spikes with a pencil, process and reprocess samples, play live or prepare your samples for studio work. [GleetchLAB] is not a classic editor/instrument, there is no timeline, MIDI sync or sequencing. You just load samples or plug your real instruments and start manipulate them in realtime. It is an organic tool, it is perfect to create sound efxs and the most modern digital avant-garde sounds on the fly. It uses several synthesis thechniques and DSPs, and you can even use your favourite VST plugins. [GleetchLAB] is a tool designed for openminded people, researchers of the new frontiers of sound, mad scientists of the glitch art. Whether you are a sound designer or a fanatic of minimal microsound music, you'll find [GleetchLAB] an incredible and versatile tool.
Due to the nature of digital noises, please pay attention to high sound pressures and very fast transients that may damage your speakers (and your ears), if you do not operate carefully the overall volume output.